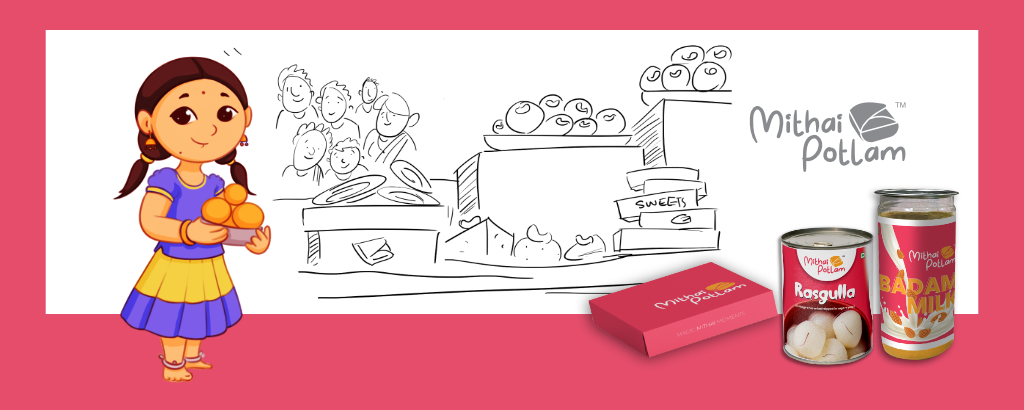 Some would cherish to reminiscent those exciting sweet-gorging childhood years when sweets were served in carefully wrapped paper at varied outlets. This unforgettable slice of life, prompted the not-so-long-ago brand name: Mithai Potlam.
The emergence of the logo took its own metamorphosis before its eventual sweet and happy look. Meanwhile, with a delectable array of products that include: over 250 regular and traditional sweets, kaju and badam, baklava, savories and cookies, Mithai Potlam was eager to speedily spread this pure sweet happiness at every nook and corner of Andhra Pradesh and Telangana.
EyeCatch advertising agency in Hyderabad deemed it imperative to conceptualize and create a much-needed brand ambassador who would rapidly journey all over the region, apart from its perspicuous presence at the very mouth of varied Mithai Potlam stores.
Somewhere, some sweet fun was really missing amid these bona fide pure ghee sweets. The need for a sweet small girl hailing from the genre of yesteryears arose. Chinni was created with a familiar long-ago lass-look, and in a flick became the animated brand ambassador of Mithai Potlam. Indeed, a rose-like sweet Chinni arose.
Gradually, Chinni made her sweet aura of presence at every celebration, and special festive occasion. Be it Christmas, Sankranti or Ram Navami, and yes she would stand out even during Eid Al-Fitr, and for all the forthcoming festivals.
Now the smart, sweet Chinni is swiftly moving out of her home at Mithai Potlam to reach across the region higher and wider to consistently spread the special pristine sweetness.