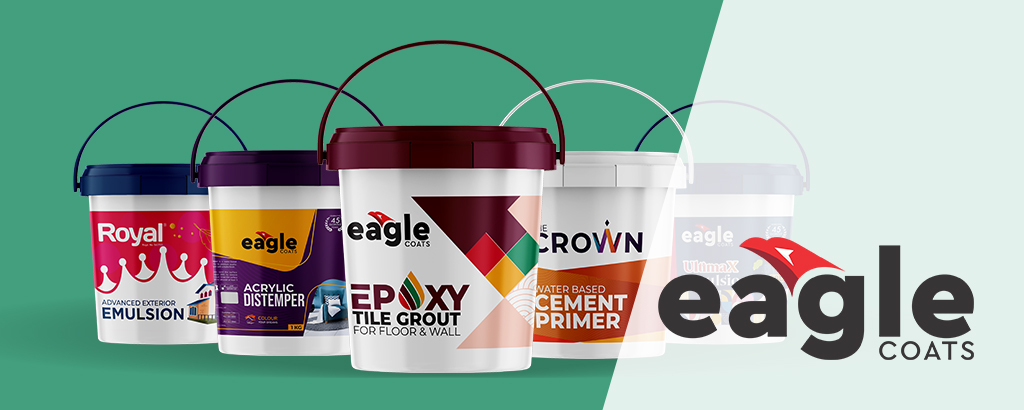 1974. The year when the story of Eagle Coats unfurled with a humble beginning.
Gradually, this eminent client of EyeCatch stood tall as an innovative major player of the region with specialty coats and paints. And then, in a bid to expand market penetration, Eagle Coats steadily introduced adhesives, construction chemicals, paints, tile care and varied hues of oxides.
Eagle Coats, thus far, has uncompromisingly and unequivocally served a sea of customers with unblemished quality at all times. Meanwhile, the organization emerged as market leaders in flooring oxides with a consistent growth of 30% each year, gaining a top notch margin in the market segment.
Yet, at this juxtaposition, Eagle Coats approached EyeCatch branding agency in Hyderabad, to ameliorate their existing logo and construct a strategy that would help escalate their market presence perspicuously. The entire of gamut of stationery requisites emerged with a bodacious look. Client offered the agency a broad smile with sheer content.
Sans any agency-client's 'tacit conspiracy', as David Ogilvy once pointed out, EyeCatch embraced this winning client who offered complete branding-advertising-digital tasks. Endeavoring to make it impacting and interactive, EyeCatch began to tediously work on their website, both on the content and design.
In a fast changing communication environment EyeCatch is committed to staying ahead of the curve by adding new skill sets, building new capabilities and collaborating with partner companies to offer the best business solutions to our clients.
Magnificently, Eagle Coats is one of them.