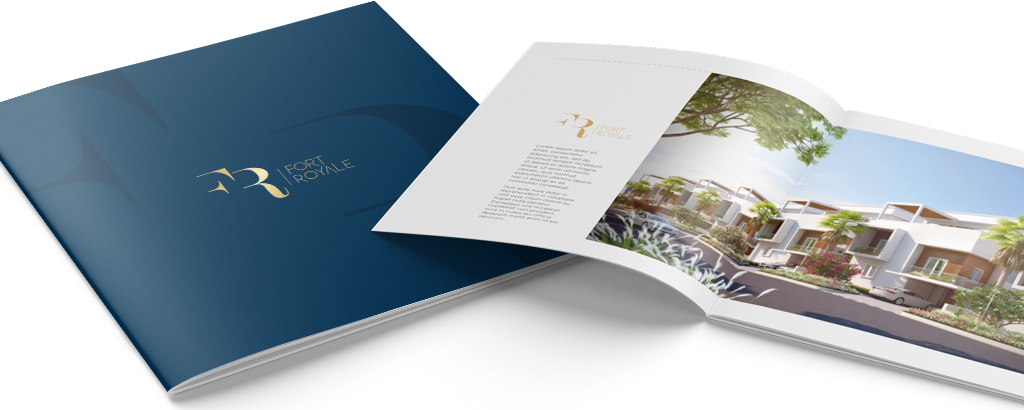 Surrounded with natural and cultural richness, Fort Royale is pinned amid the historic terrains of an amazing citadel: Golconda Fort which was once the capital city of the Qutb Shahi dynasty. Immerse in the beauty of exquisite homes on expansive plots, while life at Fort Royale becomes a series of enriching moments.
Located in Hyderabad: Telangana, Fort Royale Villas offer not just an enlightening life-style but boundless opportunities to fill your time here with adventure, discovery and enrichment.
With that brief backdrop of a realtor, EyeCatch emerged with a spellbinding narrative: GDSK Group assigned us to execute a stunning brochure to arrest the attention of a well carved out target audience. Fort Royale placed their unwavering trust under the tutelage of EyeCatch to make their property brand move ahead steadily.
The branding exercises commenced with logo. An exquisite, sophisticated one. One that turns out to be the head-turner and exclusive, amid the plethora of realtors pinned all across the city. The game wasn't easy: for we aimed to be the game-changer in the world of real estate branding and advertising.
EyeCatch advertising agency endeavored to create an eye-catching logo for the flagship company, GDSK Group. And now you know what ultimately mesmerized our esteemed client. An articulate content went ahead with creative contours to unfurl the amazing villa narratives. On parallel measures the creative design followed with keen innovative ideas. The rest is not-so-long-ago history.
The surge of panic over the pandemic loomed all across the globe by the peak of 2020, but we took up the challenges and shaped the brochure by weaving all of the writings and creativity to bring out the best of the tapestry: a rich, radiant design to attract the best of villa buyers.
EOD: our business-friendly client exclaimed: 'Brilliant!'