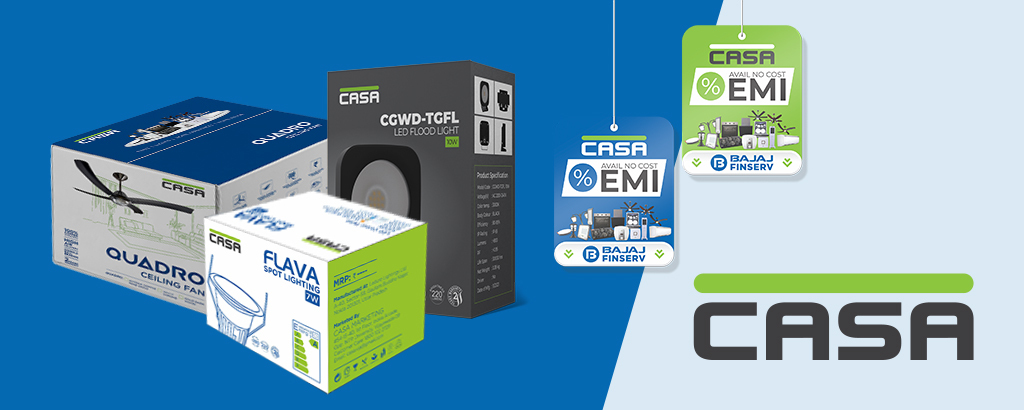 In a bid to continue the 30-year old legacy of their family business, CASA Group emerged during 2008. EyeCatch shook hands with CASA several years ago and soon empowered them with consistent brand success stories. Gradually, with a wealth of experience, CASA determined to rule the challenging and dynamic markets all across the region.
Starting from a wide array of world class lighting solutions and aesthetic home appliances, CASA gradually emerged with showcasing a smorgasbord of air-conditioners, fans, geysers, water-heaters, chimneys, HOBs or cooktops, ovens, OTGs, and dishwashers.
EyeCatch began advertising for them and branded CASA when they inaugurated their swanky showroom of 6,000 sft at Vijayawada, way back in 2012. Thereafter, there was no turning back for CASA: 2014 witnessed the birth of Elan Honda when CASA became the new entrant in the automobile industry, with showrooms at several places viz. Mahbubnagar, Nagar Kurnool, Makthal and Ieeja.
EyeCatch brilliantly strategized the advertising and media plans, and set the ball rolling and gained considerable brand recall scenario and footfalls for client. And all the while, a well-defined target group evolved.
Steadily, CASA gained a household name for themselves and proved to be a contemporary inspiration for others to follow suit. CASA took diligent strides, and surged ahead in leaps and bounds with unequivocal commitment and quality services, helping various businesses including retail showrooms, convention centers, hotels, restaurants, offices and hospitals to meet their specific needs and provide solutions that ensure high energy efficiency and quick return of investments.
All through this incredible journey, EyeCatch unwaveringly partnered with CASA.